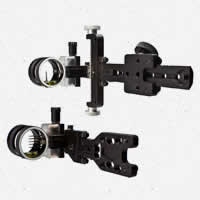 Sword Sights, LLC is located in Northwest Ohio, and is owned by its president Rodney Notestine.
The company was originally founded by Danny and Sue Sword, and was run as a family business out of the Sword's home. As the company continued to grow, it eventually came to be known as Sword Acu-Site Inc., and operated out of Jackson, Kentucky until the end of 2009.
During November and December of 2009, the company changed ownership. During that time the company was renamed to Sword Sights, LLC, and was relocated to Northwest Ohio.
Today, archery continues to be a passion of Sword Sights. We know what an archer demands from his equipment...PERFECTION. And that is what we aim to provide with each of our Sword Sights products.
Our sight line encompasses the full spectrum of archery needs…from introductory level bow sights, to sights designed for the intense sport of 3D and Competitive Archery; and all levels in between.
Sword Sights builds quality and dependability into each of our sights, and we back our products 100%. Sword sights are designed to stand up to the rigors of extreme hunting, and to the vibration of repetitive shooting of today's high speed bows. Combine innovative design with quality components, and Sword's commitment to customer service; and the sighting solution becomes clear – Sword Sights.
Join the Sword Sights team today. Discover what thousands of shooters and hundreds of dealers around the country already know. Sword Sights stands second to none in quality, dependability, and customer service.